Newspapers aren't dead yet.
This is The Proof.
The Proof is a newspaper bursting with pictures and words. You can pick it up for free from piles around Chicago, or subscribe and have it delivered each month, mixed in with the junk mail you were going to carry to the recycling bin.
A newspaper is a tangible thing. The novelty of physical print is not to be dismissed. It's a format so ephemeral that our contributors can try out new failures and styles with low stakes.
The Proof is an experiment. What if we had our own newspaper? Could it be free but support itself? Could it increase instead of decrease the space for comics? Could it treat its contributors like human beings? Could it survive without advertorials, junket interviews, content outsourced to robot aggregators, or whatever new awful profit-maximization scheme comes next? In short: could we make the kind of publication we would like to read and then hire ourselves?
Submissions
We'd love to pay you for some great work, but we don't want you doing spec work for us like it's some contest. Frankly, we don't pay that well (see below). Don't make work for us that you can't use somewhere else if we can't use it. People that ask you to do that are at best ignorant and at worst predatory. The Proof was created entirely as an antidote to their garbage ethics.
E-mail us something directly, or better still: send us a link to your portfolio, or some work you're already doing. We'll look at it and might ask to buy something you've already done that was just hanging out online for free.
Anything The Proof buys from you is for a one-time use. You can put it on your website, run it in a book, or sell it to the New York Times, too. We're looking to show off what you did that we liked along with other great writers and artists, not tangle up your best work or impede the progress of your career.
The current rate is $8 for anything, but we pay for everything we run. We're hoping it serves as promise that we're committed to making this model work, even if it can only pay a little at first. As The Proof grows, that number will, too (it was only $5 when we started). We'll also send you contributor copies that you can give away or line birdcages with.
We want drawings you're ashamed of, doodles you're sure we won't like, photos you put on Twitter but nobody fav'd or retweeted, first-try comic strips, text pieces by people who don't write, drawn pieces by people who don't draw, and things drawn with your weak hand. The only reason to get into this business is to see and read new things, so we will never get tired of clicking on what you've got to show us. Don't be afraid, e-mail us.
The Proof is currently on hiatus. For questions about subscriptions or back issue orders, please contact Tom McHenry at tommchenry@gmail.com.
---
Advertising
Classified Ads
Classifieds are $5 for up to 200 words. Let our Tiny Paper Craigslist help you start a band, moonlight as a private investigator, or anonymously complain about the tedium of your job. Seek singles, bicker, propose, we don't care, we just love that you're here.
Display Ads
Ad blocks are 1.25 inches high x 2.5 inches wide. Each block is just $10. You can stack them, but they are limited, so act fast. In the grandest of grand traditions, we will even design your ad for you, so it fits the space and looks daring while still including your text. Tell us about your record store, your podcast, your webcomic, your sweetheart, your friend's birthday. Inside jokes will not be turned away!
Questions about advertising in The Proof? Click here to e-mail us.
Issue 6 Now Available for Purchase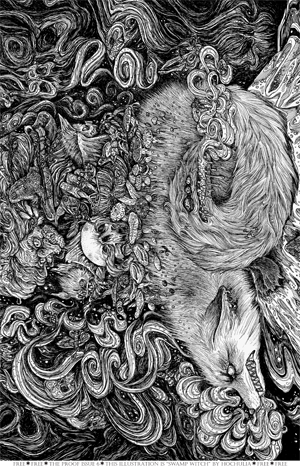 An amazing cover by Hochulia. Other contributors include Kevin Budnik, Courney LaForest, Tony Breed, Ali Wright, and Ian Pyper. There's an article on sauna culture, a recipe for fluffernutter pie, and another stupidly difficult puzzle. Treat yourself to a copy.
Buy it here for almost the cost of postage:
---
Back Issues
Looking for older issues? We've got a spare room piled full of them!
Buy them here for almost the cost of postage:
---
Six-Issue Bundle
Issues one through six shipped to you at a great low price!
---
Or Just Subscribe Already
A year's subscription is $25 for subscribers in North America, $50 international. Sorry, internationals, but it is just a fortune to mail you something on a monthly basis.
All it takes is couple hundred subscribers to carry this thing for a year. That's it. Every subscription, ad sale, every other bit of revenue past that point means more money we can pay all our contributors.
---
Donations
Not sure you want to fully commit to a subscription, but like supporting new adventures into old media?
We will humbly accept your donation below.
---
Follow These Assorted Proof Accounts: